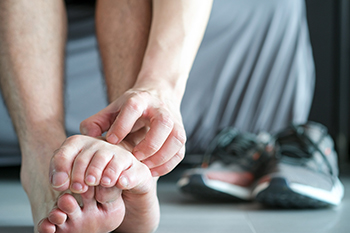 Having a rash on the feet can occur for several reasons. Poison ivy, oak, and sumac are common causes of rashes on the feet and often result in severe itching, blisters, and pain. They are caused by contact with an oily sap, called urushiol, that is found in some plants, possibly causing a rash to develop within 12 to 72 hours after contact. Some of these can clear up within three weeks. Treating any itching is suggested to prevent scratching and possible infection. If an individual has a serious reaction to these poisons, difficulty in breathing may ensue and it is critical to see a medical care provider as soon as possible. Prevention tips for poison rashes on the feet include wearing closed-toed shoes while outside in nature where the feet might possibly be exposed to troublesome plants. If one gets this type of rash, it will be less severe if washed with soap and water immediately and the clothes and shoes involved are disinfected. Since there are other causes of rashes on the feet and symptoms can be similar, if you have developed such a rash and you are experiencing foot pain, it is suggested that you see a podiatrist to have your condition diagnosed and properly treated.
Foot Pain
Foot pain can be extremely painful and debilitating. If you have a foot pain, consult with Jennifer M. Kern, DPM from South Carolina. Our doctor will assess your condition and provide you with quality foot and ankle treatment.
Causes
Foot pain is a very broad condition that could be caused by one or more ailments. The most common include:
Bunions
Hammertoes
Plantar Fasciitis
Bone Spurs
Corns
Tarsal Tunnel Syndrome
Ingrown Toenails
Arthritis (such as Gout, Rheumatoid, and Osteoarthritis)
Flat Feet
Injury (from stress fractures, broken toe, foot, ankle, Achilles tendon ruptures, and sprains)
And more
Diagnosis
To figure out the cause of foot pain, podiatrists utilize several different methods. This can range from simple visual inspections and sensation tests to X-rays and MRI scans. Prior medical history, family medical history, and any recent physical traumatic events will all be taken into consideration for a proper diagnosis.
Treatment
Treatment depends upon the cause of the foot pain. Whether it is resting, staying off the foot, or having surgery; podiatrists have a number of treatment options available for foot pain.
If you have any questions, please feel free to contact our office located in West Columbia, SC . We offer the newest diagnostic and treatment technologies for all your foot care needs.
Read more about Foot Pain